Welcome to JB'S Chinese Cafe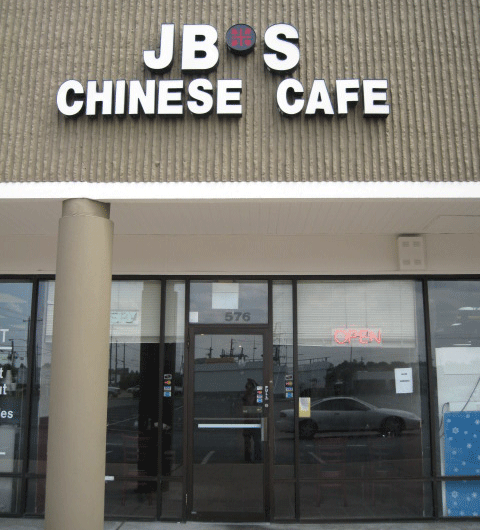 We are locate in 576 El Dorado Blvd ,Webster. (State HighWay3 at El Dorado) where the FoodTown shopping center is. We've been established for many years, this is just a small family owned restaurant, nothing really fancy, but it is a warm place for sure.
We do dinner in, carry out, pick up and even delivery.

Our chefs have more than 30 years experience, we can do the order just how you want: Szechuan, Hunan, Mandarin and New York style.
Our price compared to other Chinese restaurants is not the cheapest, but also not expensive, just in a normal range. Our price is very reasonble, with the same price, you could get much better things here. We use 100% Vegetable oil, Tender beef with no fat at all(Fresh Beef Flank), all chicken is also use white meat only(BoneLess chicken Breast), fresh cusion pork, fresh vegetable and jumbo shrimp...and much more.
What is even better is that we offer coupons. When you order over 25 dollars, you can get a free order of crab puff or Egg roll, when ever you order more than 35 dollars, you can get a free order of General Chicken or anything that is equal or less price of General chicken, Remember that, the price of General chicken is 8.99!!!

And now, we have won the 100 TOP CHINESE RESTAURANT in the category of HEALTHY MENU AWARDS
- Chef has more than 30 years experience

- Fresh vegetable and meats

- 100% vegetable oil

- FREE DELIVERY (min. $15)

- FREE CHEESE PUFF or EGG ROLL(order over $25)

OR

- FREE GENERAL TSO CHICKEN or anything that's less or equal value(order over $35)

- Limit one coupon per customer per visit. Cannot be combine with any other coupons